Welcome to the Mithilia Wiki
Edit
Welcome to the online records of Mithilia. This wiki and its articles are based on the fictional world of Mithilia that I came up with long ago and have been expanding over the past few years into a detailed world that parallels our own world in many ways but is distinct in others. The world of Mithilia and this wiki especially are a work in progress with many missing elements and poor editing in some places. But this wiki will serve as a common place for people to view the work being done and to help organize the various topics of the world.
All images on this wiki were not created or are owned by me or anyone who works on this wiki. All of the images other than the main map on the homepage were found on public sites and are used to give the writings here a visual aspect and many have even influenced and inspired some of the ideas for Mithilia. If you or someone you know would like credit or for me to remove their images from the site please notify me.
If you would like to contribute to the work in progress, don't hesitate to ask me as there is always more room for creative minds and this massive project is quite difficult working alone! Thanks for checking out my wiki!
Describe your topic
Edit
The fictional world of Mithilia is vast history of peoples, nations, and civilizations that bare their own cultures and beliefs to create a compelling story epic. The majority of Mithilian history covered in this wiki is of the first ages and periods as mankind developed and explored the unknown world and is centered on a small number of civilizations that rise and fall through time. The world of Mithilia is home to more than just man and has many mysteries that have yet to be discovered. What is known, is that mankind is a driven race that seeks to make its place in this world as in any other and is willing to do whatever it takes to do it.
Latest activity
Edit
Photos and videos are a great way to add visuals to your wiki. Find videos about your topic by exploring Fandom's Video Library.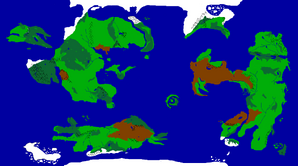 Community content is available under
CC-BY-SA
unless otherwise noted.